The Top Internet Marketing Tools That I Recommend
When you are starting an online business you will come across all sorts of different tools that you can use and below are a selection of the top internet marketing tools that I use and recommend, so that you can also try them and then have them constantly by your side too.
These are my chosen tools of the trade that I use regularly to help me make money online and I hope that you like them and that they help you to streamline your work day and build your own online business…
Affiliate Marketing Training Program
Wealthy Affiliate is with out a doubt the top affiliate marketing training program, as not only do they have comprehensive step-by-step courses but there is also a huge community that is always willing to help you whenever you need it.
This platform is basically an all-inclusive platform that has everything you could need to build your online business with including hosting, domains and keyword research tool.
Getting Started For FREE Includes:
10 Lessons
2 Websites
Easy To Use Website Builder
Secured Web Hosting
Keyword Search Tool
Content Creation Platform
Community Support
And so much more…
You can read Why Wealthy Affiliate is My Choice in my full review here…
Keyword Research Tool
Jaaxy is my number one choice of tools for doing keyword research, which is an essential part of your content creation process if you want to get lots of free traffic to it.
There are millions of different keywords for every niche and Jaaxy simplifies the process of finding the best ones quickly and effectively.
It has easy to understand measurements that will tell you which keywords are good to use and which ones are not based on three different parameters.
Traffic – The amount of traffic you could expect if on the first page of Google.
QSR – The number of other websites already using the keyword
SEO – The likelihood of your post being ranked on page one
Plus with this tool you can do a search and get instant results on how you rank for a keyword on your site on Google, Bing and Yahoo. You can also spy on your competitors to see how well they are ranking too!
You can sign up for Jaaxy for FREE today Here with no payment details needed for registration, or you can first read my full review here..
Click Tracking Tool
Clickmagick is an awesome little tool that can track all your different advertising links no matter where you advertise. It is highly useful for both experienced marketers and those new to online marketing and even has a great free guide to help newbies understand the ins and outs of click tracking.
Read my full review Is ClickMagick The Click Tracking Software All Online Marketers Need?
Domains
I have bought several domains over the years and they have either been from Namecheap or from Wealthy Affiliate.
Namecheap do offer some great deals on regular domains and you can also get your perfect TLD here too. You can read more about both of these and the things you need to consider before buying a domain name here…
Website Hosting
Siteground is my go to choice for self website hosting as they not only have great affordable hosting plans but their customer service is excellent too.
You can start off any new website with their Start Up Plan which is great for up to 10,000 visitors a month and only costs $3.95 per month.
If you do have or intend to have a couple of websites then their GrowBig Plan is awesome value at only $5.95 per month. You can also read my full review on Siteground Here…
Premium Themes
A premium theme can give your website the perfect look that you are looking for along with all the features and functions needed to provide the best user experience for your visitors.
My favourite stop for Premium themes has to be Template Monster who has over 26,000 to choose from and they offer an awesome Loyalty program which means you can get cashbacks for future purchases. See some beautiful examples of their different themes for various niches Here…
Social Media
Social Media Marketing is going to play a big part in helping you drive more free traffic to your website and while there are many different Social Media platforms to choose from I would just concentrate on a few.
Do post all your new posts to Google+ as soon as you have published them as this can really help with getting your content being indexed and ranked quickly. The other sites that I regularly use are Facebook, Pinterest and Twitter, though you will need a lot of followers to also be able to get any traction on Twitter.
Here are some of the best Social Media marketing tools that can make your life easier..
As far as providing traffic the best one that I have found to utilise is without a doubt Pinterest and I have only recently started using it properly. I have been using Tailwind to help me increase my brands visibility and take the hassle out of my pinning scheduling.
You can read How I Skyrocketed My Traffic with Tailwind and Pinterest here..
Email Provider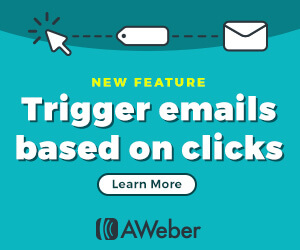 I was a bit slow off the bat to start building my email list and have only recently started doing so and in the process I have also researched all the different email providers, to see which one was best for my needs.
AWeber won the jackpot as they are the best affordable option for those of us who use affiliate marketing, plus places like MailChimp don't allow affiliate marketing.
They have a great set-up as provide a range of training videos and tutorials on getting started, building your list along with tips on what to write n your emails, plus they offer a FREE Month Trial which you can sign up for Here
Affiliate Programs
Affiliate marketing is the way that I make a regular online income and a lot of the links throughout my site are affiliate links. I have written a separate post sharing some of the high commission affiliate programs that I personally use and you can read it here..
Also check out the Ultimate Bundles Deals Affiliate program here
Final Thoughts..
Having the right tools for your trade is essential and internet marketing is no different in that respect and I have found that they really do make your life so much easier.
I hope that you found my recommended top internet marketing tools useful and do take a look at them to see if they could also help you to build your own online business.
Make sure that you do pop back now and again as I will be keeping this post updated as I come across other great new tools that simplify my work day and therefore could also help you…
If you have any favourite tools that you'd like to share then please do leave a comment below with them, so that I can also try them out.
Now let's go make some money…
Editors Note – Originally written May 2018 – updated with new info and republished.
Please Follow By Email & Share 🙂